The Private Limited Company Compliance Checklist !
The private company, compliance with legal and regulatory requirements is crucial for your success. It not only helps you avoid costly fines and legal disputes but also safeguards your reputation.
Find the list of compliances to be adhered to:
Director KYC – DIR 3
File Annual Financial Statements – AOC 4
File Annual Returns – MGT 7
Four Board Meetings per year
File Return on Deposit – DPT 3
File Particular of Charges – CHG 1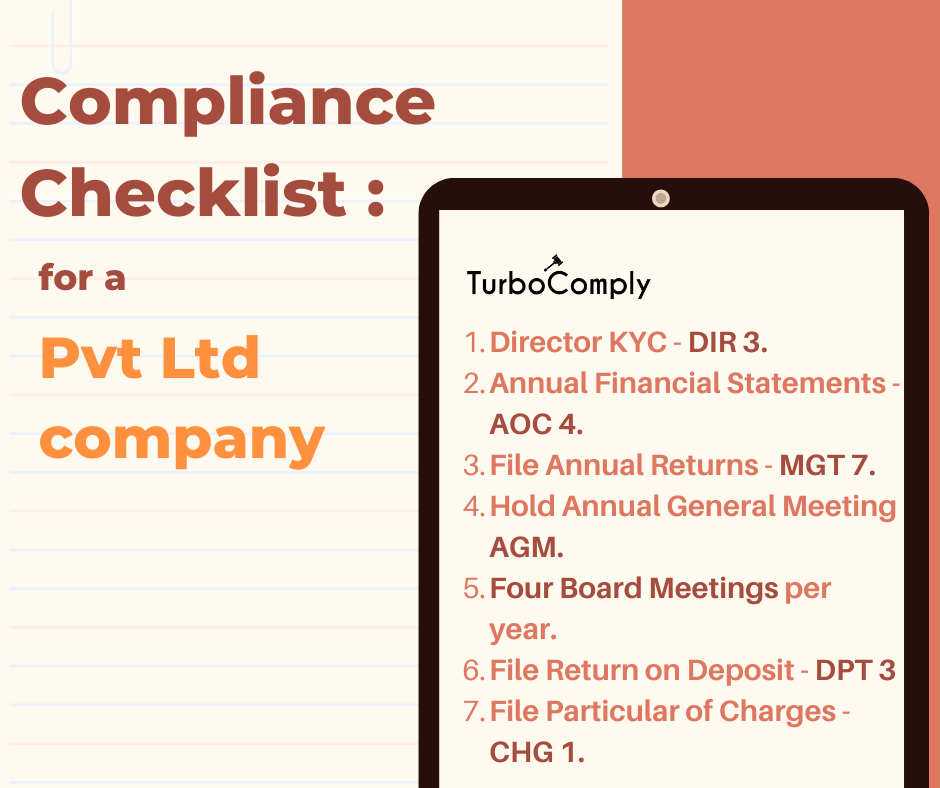 Director KYC is a critical compliance requirement that every director must complete annually. You need to submit personal details, address, PAN, residence proof like a bank statement, or any utility bill, and Aadhaar number through the DIR-3 KYC Form by 30th September 2023. Failure to do so can result in penalties.
File Annual financial statements need to be filed in AOC 4 form, which includes the Balance Sheet, Profit and Loss Account, Director Report, Auditor Report, and other related documents. This filing must be done within 30 days of holding the Annual General Meeting.
File an annual return in MGT 7 form, including details of the shareholding pattern, securities transfers, changes in directors, or key managerial personnel. This filing must be done within 60 days from the date of the Annual General Meeting.
Hold an AGM Annual General Meeting every year within 180 days from the end of the financial year to approve the financial statements, appoint or reappoint directors and auditors, and discuss other related matters.
Please be aware of the Deadlines and Due dates for the filing for each and every compliance, as they respect to change based on company to company.