Planning to Ease AIF's Compliance Burden : SEBI
Market regulator seeks views from VC and PE fund officials on ways to simplify the process and reduce the costs for the Passive funds such as :
Index funds and exchange-traded funds, through lightened mutual fund regulation.
Passive funds is an investment vehicle that tracks a market index or a specific market segment. These funds include passive index funds, Exchange Traded Funds (ETFs), and Fund of Funds investing in ETFs.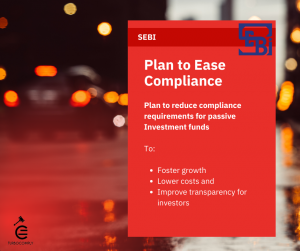 The Indian capital market regulator is likely to make life easier for venture capital (VC) and private equity (PR) funds which have emerged as large pools of risk capital for businesses that are often ignored by the public market and high-street banks.
Last Friday the Securities and Exchange Board of India (SEBI) told several fund honchos that it would do a "comprehensive review" of the regulations to "simplify ease and reduce cost of compliance for alternative investment funds (AIFs).
"Trustee supervision of Asset Management Companies (AMCs) has been strengthened, and they now have additional responsibilities for overseeing fairness of fees and expenses, AMC performance, prevention of market abuse, and avoidance of conflicts of interest.